Tree of Life spreads a message of remembrance
Wednesday, December 11, 2013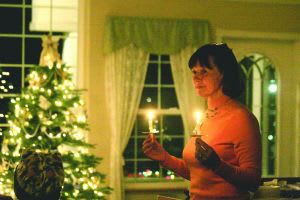 by Justyna Tomtas/Valley Press
PLAINS – As thousands of holiday lights twinkled on a tree bedecked with angels, the Clark Fork Valley Hospice team took time on Tuesday to honor those people who have passed this year and in years prior.
The Hospice Tree of Life ceremony filled the CFVH Conference Center with those who wished to remember the ones they loved. As each person entered the room, they were given a program and a candle. As the introduction kicked off and the Plains Instrumental Ensemble fell into silence, a list of names was then read, stretching close to half an hour.
While those in the crowd reflected on their memories, they would hold up their candles and light them when they heard a familiar name.
The list of names grows every year and although many of them are people who have been on hospice care, people also donate names to the event.
Names stretch back to before the Clark Fork Valley Hospice was created in August of 2001 and the first person that was ever on Clark Fork Valley Hospice was also commemorated as their name was read.
Laura Lanfear, RN case manager, said the event is a meaningful one.
"I think it's really important for the employees because I love hearing those names again after all these years. I've been doing it for 18 years and it means a lot to me to hear those names," said Lanfear, adding that it also touches many of the people who attend.
The event helps bring a time of reflection and those who have lost loved ones are able to light up their candle in memory of them.
CFV Home Health and Hospice Manager Janice Barber welcomed everyone to the ceremony and explained the hospice's mission. She said hospice was not only where death occurs but also where life continues.
The tradition stretches back to 2001 when CFVH Hospice began participating in an international tradition of the Hospice Tree of Life. The Tree of Life can be seen on the front of the hospital and is clearly visible from Highway 200.
"The tree is a visual tribute to the lives and spirits of those who have touched us in so many ways," read the invitation to the event. It also stated the program could be used as a time to heal many families.
The event doubles up as a fundraising event for the hospice and the money raised goes to support patient cares and services.
"It's a wonderful way to celebrate all these lives of all these people that are very important to us," said Barber. "They changed our lives in their living and in their death they changed our lives."
CVFH and Hospice Chaplin, Janet Young, read a passage about the importance of letting go of both anger and resentment. She went on to give a closing prayer as well.
She later said it was important to recognize that the holiday season is not always easy for everyone.
"If you lose someone, it's painful to move towards the holidays," said Young. "I think that gathering people together for another opportunity of closure, another opportunity to honor the memory of their loved ones publicly (is important.)"
Once the event wrapped to a close, the music began to play and the spirit of the event lifted as those in attendance gathered around the room for refreshments and light conversation.
The end feeling of the event signified that life continues on but reminded everyone there of a person that was once and still is held close to their hearts.