New provider joins Hot Springs Family Medicine
Friday, November 29, 2013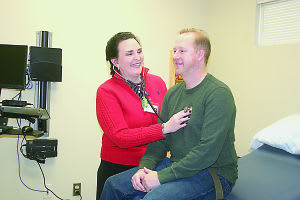 by Justyna Tomtas, Clark Fork Valley Press
HOT SPRINGS – A new health care provider has joined the ranks at Hot Springs Family Medicine clinic. After following a long path to get where she wanted to be, her dream did not end with school; in fact it is just starting.
After being a nurse for 17 years, Kimberly Schwittay worked in all different environments from a nursing home to critical care units. She decided to further her education and become a nurse practitioner. She graduated in June, got certified, passed her boards in July and was offered the job in Hot Springs in September.
Schwittay said she has always wanted to be in the medical field. After looking into medical school, she decided that she did not want her career to run her life and for that reason she chose to go into nursing.
The decision was a difficult one and Schwittay weighed which career path she wanted to continue with. Her goals were set on either that of a physician assistant or a nurse practitioner.
"I was weighing between the two of them and I just went on with nursing. I worked as a nurse for a while and then I decided I'm ready – I want to be a nurse practitioner," Schwittay explained.
The first go around, Schwittay enrolled in classes but never ended up going. She then got her bachelor's degree online and decided that was not enough.
"I reapplied to that same program, got in and got started and finally finished," said Schwittay. "I went the long way, the slow way. But oh my gosh, I wouldn't trade it for anything. It was so awesome."
Her pathway to becoming a nurse practitioner took a lot of self-finding.
"It took me a while but I finally gained a lot of respect for this field and I'm a strong advocate and supporter of it," said Schwittay.
Schwittay loves the community of Hot Springs and she is happy to be in such a welcoming town. She had previously visited Hot Springs while visiting her in laws a few times a year.
Schwittay wanted to become part of a small town, and Hot Springs seemed to be the perfect fit.
"When I finally started looking at being a nurse practitioner, I wanted to do the rural. I come from central Washington, not necessarily a rural area and there's something about a feel to the small town," Schwittay explained. "I wanted to be able to see my patients and get to know them and their families."
To Schwittay, it's not all about practicing medicine – it's more about the relationships you create along the way.
"I love trying to connect with people and trying to help them live the healthiest life they can," said Schwittay.
She believes she will be able to better take care of her patients by living in the same small town as them.
"I think you can give much better care to someone when you know their entire environment…you know where they live, you know what their air quality is. You just know more and can give much more focused and customized care," said Schwittay.
Schwittay explained she loves a challenge and this is exactly what she is getting. She said her position is challenging, fun and it's within an awesome community.
"Every single patient is different. You can have two people come in with the exact same diagnosis on paper and they look completely different – I love that," explained Schwittay. "It's just this giant gray area and I love gray."
Now Schwittay has the opportunity to give back to a community that had touched her in previous years. She explained that when her father-in-law died, the community came together for her mother-in-law, something that has impacted her to this day.
"That just touched me so much. That part of me wanted to say thanks and give back. They've kept her safe and they've taken care of her – you don't get that in big cities," said Schwittay.
She believes with her new position, she has made a commitment to the community and she is planning to ride that out for a long time.
"My husband and I are planning on being here for the long haul. That was part of the deal about moving here," Schwittay said. "I told him straight up - when I get a job in family practice, I'm not going to pick up and leave. That's where I want to be and I don't think it's fair to your patients to give them x numbers of years and then say 'oh no, I'm done' and go off."
As of now, Schwittay has a lot on her plate, however, she hopes that as time goes by she will be able to get more involved in the community.
Along with her professional goals, Schwittay plans to utilize the surrounding scenery. She wants to learn how to ski by starting with cross country skiing first and then moving to downhill skiing. She also plans to start hiking and backpacking – something she is very excited about.
"It's just too wet, rainy and cold in western Washington for me to ever want to do that. There are so many things I want to do that I now can start doing," said Schwittay.
She also plans to become a better knitter, read more books and eventually she would like to house some alpacas.
"This is just the environment I've always wanted," explained Schwittay. "I've always felt so welcomed."