New CFVH technology aids in heart imaging
Thursday, September 4, 2008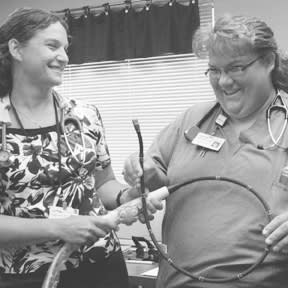 by Sandra Gubel, Sanders County Ledger
The images are crystal clear.
New state-of-the-art equipment at Clark Fork Valley Hospital (CFVH) enables cardiologist Dr. Sharon Nichols to get up close and personal with a patient's heart.
The transesophageal echocardiogram probe, inserted into a person's esophagus, allows the doctor to have an unimpeded view.
"This takes what we can do with cardio-ultrasound a step further," said Nichols, who has been at work at CFVH since January.
"There's really no better way, there's no better tool to look at heart valves and to look at structures," she explained. "This technology fills in a gap we had here before," Nichols added, commending the gift of the CFVH Foundation, which paid the entire price tag of $22,500.
"At times we couldn't adequately (tell what was going on) in some cases, when sometimes a patient's chest wall or one of their lungs would interfere," Nichols said.
Because a person's esophagus is right next to the heart, no matter a person's shape or size, the specialized ultrasound will provide clear, unique pictures that regular ultrasound isn't able to deliver.
This will prove invaluable, said Nichols. Patients will receive better care, and they'll also save themselves the time and inconvenience of driving far.
In the past, when there have been questions on a cardio-ultrasound, Nichols has had to direct patients to travel for further testing in Missoula or other locations. "Now we can do it here," she said with a smile. "Patients from Sanders County are not going to have to travel for this."
She notes that since arriving here, studies such as this have been warranted at least once per week.
Nichols practices as CFVH's very first cardiologist as well for patients at Polson, Ronan and Superior through the International Heart Institute of St. Patrick's Hospital. She's performed many Transesophageal Echocardiograms, she noted.
"It's a fairly simple procedure where the patient feel no pain, and I can effectively assess the overall function of the heart's chambers and valves. This is done by putting each patient under conscious sedation--a "light, twilight sleep" through intravenous medication.
It takes from two to 2 1/2 hours in the hospital, although the actual exam takes around 30 minutes, Nichols added.
TEEs involve the use of a transducer, an endoscope-like probe equipped with an ultrasound device, to better visualize the structures of the heart. The probe is placed down the esophagus, allowing for a clearer image of the heart without going through skin or the chest wall like a typical echocardiogram.
TEE studies are used on stroke patients, to find out if there are any holes and clots in the heart. "Almost all patients with a stroke qualify for this," said Nichols.
The TEE is also used when the cardiologist must get a view of a heart in which there are mechanical heart valves. In regular echocardiogram studies, the metal of the valves basically "blinds" those watching the ultrasound images, she explained. "The TEE is a lot more sensitive test for heart valve infections," Nichols added.
"TEEs are good for anyone where doctors can't get images with transthoracic echocardiograms, who have signs and symptoms of congestive heart failure or congenital heart disease. We can really see any abnormalities. TEEs also assist in viewing blood clots, tears and masses in the heart. This method takes away all the space of the chest wall--crisp and clear with no reverberations," the cardiologist explained.
"As a rural hospital, it is a real privilege to not only have our own practicing cardiologist, but to have such advanced equipment, making it easier to meet the needs of Sanders County residents," says Dr. Gregory Hanson, Clark Fork Valley Hospital CEO in a press release.
"We are taking new strides every day to increase the quality and level of service we are able to provide to our patients so they feel confident in choosing Clark Fork Valley Hospital for all of their healthcare needs," he added.
Nichols concludes, "I'm happy to have it (the new equipment). It's going to improve health care in this county, that's for sure."
People interested in seeing how the TEE transducer works or learning more, can see an actual video image and gain more information on www.seemyheart.org.
Click Here to learn more about TEEs